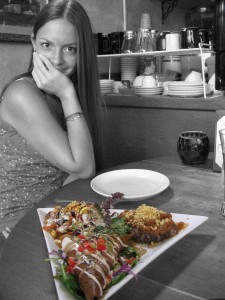 Daniel and I were in St. Augustine, FL for a friends art show when we decided we wanted to have dinner.  I had been wanting to go to The Present Moment Café for a long time now but had never made it there.  It's an all raw, vegan, and organic restaurant, where none of their food is heated over 118 degrees.
We were both kind of skeptical of this, because we love to cook and have no problem with actually "cooking" our food.  So of course we figured how can this be good, the menu sounds delicious, but almost too good to be true for raw food.
Well we went for our anniversary dinner and it was one of the most incredible meals I have ever eaten!  Everything from the atmosphere and décor, to the service, the presentation of the food, and most importantly the taste were oh so amazing!  We were both blown away and so impressed by everything there.
My only complaint is that the place is about 45 minutes or so away from our house and that I can't eat there at least once a week!  We were first greeted with a carafe of lemon cucumber water on the table, followed by a super friendly and knowledgeable server.
We ordered the Kale Avocado ala Present Moment salad, it had a avocado and lemon garlic oil dressing massaged onto kale with red pepper, tomato, and candied pecans. It was large enough for both of us to split and one of the tastiest and most unique salads I've ever eaten.
Then for the meal we ordered the Dinner Sampler Platter, which allowed us to pick three dinner entrees off the menu and get smaller portions of them.  We figured it was the best way to taste multiple things and share, and the waiter also informed us that it included a salad or soup and that we could just count the salad we already had as part of it. So for our three entrees we chose the Pad Thai, Herbed Nut Loaf & White Truffle Cream Pasta, and the Mango Samosas.
All three things were incredible and so delicious, but we both felt the Herbed Nut Loaf was our favorite.  It was so rich and had this incredibly flavorful marinara sauce on top of it and was served with zucchini noodles (we had no idea that was possible) topped with a pine nut "parmesan" sauce.  The Pad Thai was so full or flavor and had curried cashews on top that just made the dish, and it was made using sea glass noodles, I had never heard of them before, but man now I totally want to buy some to use at home.  And the third thing we had, the Mango Samosas, they were Indian curried vegetables inside of a mango coconut wrapper that was so yummy.
We seriously wondered about everything we ordered, how did they do it? We were perplexed that food like that could be prepared without actually cooking it. They also had quite a few desserts to choose from, but we were so stuffed we couldn't do it.  But next time I am definitely going to try their desserts, because every single one of them seemed so creative and sounded so delicious.
After being so skeptical of the whole raw foods thing, the kicker is that when we left we both felt so great.  Unlike when you usually eat and feel kind of weighed down and sleepy and sometimes bloated.  Not with this food, it must be true that raw foods really make you feel good, because I felt like I could do anything after we ate, I wasn't dragging and ready to sit down like usual, I wanted to walk and enjoy the evening.
I highly highly recommend The Present Moment Café, check out their menu online, and if you live nearby or somewhat close, it's worth the drive. I look forward to our next trip there!!!