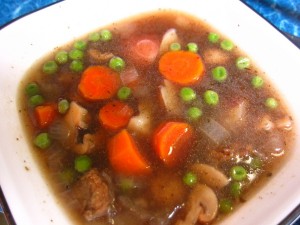 Summary: A delicious warm and hearty stew that is incredibly satisfying!
Ingredients
8 small red potatoes (cut into 1″ cubes)
1 Large Onion (chopped)
8 Ounces Mushrooms (quartered)
5 Medium Carrots (peeled & sliced thick)
2 Bay Leaves
1/2 tsp. Thyme
1 tsp. Rosemary
1/2 tsp. Garlic Powder
2 tsp. Poultry Seasoning
1 1/2 tsp. Salt
2 Tbl. Tamari (soy sauce)
1/2 tsp. Fresh Ground Pepper
1/2 cup Red Wine
1 to 1 1/2 cups Gardein Beefless Tips or TVP Chunks (beef colored/flavored)
1 cup Frozen Peas
4 Tbl. Cornstarch
Instructions
Fill a large pot with 10 cups of water.
Add the first 13 ingredients, potatoes through pepper, and bring to a boil.
Simmer uncovered for about 20 minutes, until onions are cooked and the potatoes and carrots start to soften.
Add 1/4 cup of red wine (if desired).
If using Gardein Beefless Tips, brown them in a pan in oil and set aside.  Or if using TVP chunks add them in now.
Add the peas.
Mix the cornstarch with 1/4 cup red wine (or water).
Stir the mixture into the stew and cook until the stew thickens slightly.
If using the Gardein Beefless Tips add them in now.
Serve in bowls with plenty of fresh bread!
Preparation time: About 15 to 20 minutes
Cooking time: 20 to 30 minutes
Number of servings (yield): 8 to 10