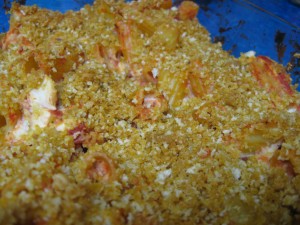 When I was a wee lad my mom would make delicious tofu lasagna.  I have tried to make it myself but I just don't have the patience.  This stuff is similarly satisfying but seems like less work to me.  Try it out and let me know what you think!
First you need to make the cheesy filling:
Next you'll need to make the breadcrumb topping.  This adds a nice satisfying crispy layer on top of the dish.
Now for the final assembly.  Here's where we see it all come together.  For the pasta you can use any large, tubular pasta.  I personally prefer rigatoni to ziti.  For the sauce I used a vegan, off the shelf tomato basil sauce.