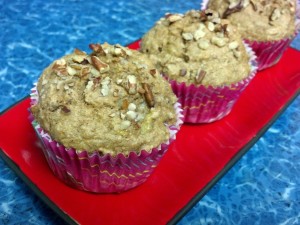 Summary: These delicious muffins are good for you, have very little sugar, and are wonderful for breakfast or as a snack!
Ingredients
1 1/2 cups whole wheat flour
1/4 cup wheat germ
1/3 cup sugar
1 teaspoon cinnamon
2 teaspoons baking powder
1/2 teaspoon baking soda
1/4 teaspoon salt
1/2 cup non dairy milk
1/2 cup unsweetened applesauce
1 cup mashed banana
1/2 teaspoon vanilla extract
1/2 cup plus 2 tablespoons pecan or walnut pieces, optional
Instructions
1. Preheat oven to 350.
2. In a large mixing bowl, combine flour, wheat germ, sugar, cinnamon, baking powder, baking soda, and salt. Set aside. In a medium size mixing bowl, combine non dairy milk, applesauce, mashed banana, and vanilla extract. Mix wet ingredients into dry mixture until thoroughly combined. This will make a thick batter. Stir in 1/2 cup of nuts, if using.
3. Spray muffin tins with non-stick cooking spray, or use liners. Fill muffin cups about 3/4 full. Sprinkle remaining nuts on top of each muffin. Bake for 15 minutes, or until a toothpick inserted comes out clean. Cool for 10 minutes in the pan; transfer to a cooling rack.
Preparation time:
Cooking time: 15 minute(s)
Number of servings (yield): 12