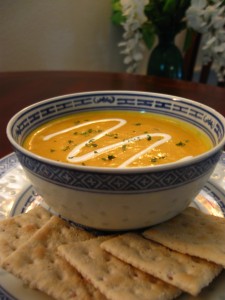 Summary: This is a incredibly flavorful, really easy to make, delicious creamy soup!!
Ingredients
1 tsp. Extra Virgin Olive Oil
1 T Red Wine Vinegar
1 lb. Carrots (peeled & chopped)
1/2 Medium White Onion (chopped)
1 Veg. Bouillon Cube (dissolved in 2 cups of water)
1/4 tsp. Cumin
1/4 tsp. Garlic Powder
Dash of Cayenne Powder
Instructions
Heat oil in a 2qt saucepan.
Cook onions in the oil until soft.
Add the rest of the ingredients and simmer until carrots are soft.
Take half of the soup and put in the blender until smooth and creamy.
Then take the other half of the soup and blend until it is almost creamy but has some texture left.
Then add back together and stir until well mixed. (*If you prefer a completely smooth and creamy soup you can blend all of it together until smooth.)
Variations
To add a little crunch and texture to the soup you can add some drained canned corn into the soup once it's blended.
Preparation time: About 15 to 20 minutes.
Cooking time: About 45 minutes to 1 hour.
Number of servings (yield): 4